The CQ Spotlight
THE CQ SPOTLIGHT: COOL COMICS YOU SHOULD CHECK OUT.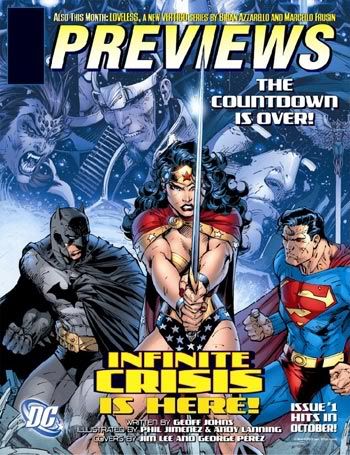 INFINITE CRISIS #1
written by Geoff Johns, illustrated by Phil Jimenez
Watch out as the biggest DC Universe event in the last twenty years slams its way into Comicquest shelves this month. In the wake of
Countdown, The Omac Project, Day of Vengeance, Rann-Thanagar War
and
Villains United
, the DCU is in chaos! Its villains have banded together, magic has gone awry, the cosmos is at war and cybernetic centurions are out to eliminate all metahumans! But how can these dangers be dealt with when our heroes are themselves divided? Featuring Superman, Batman, Wonder Woman, and a whole army of guest stars! --40 pages--210 pesos only!
(Note:
Infinite Crisis
has two covers--one by Jim Lee (above) and another by George Perez.)
HOUSE OF M #7
written by Brian Bendis, illustrated by Oliver Coipel
The Marvel Universe is in terrible danger! Watch a world live and die as the X-men and the New Avengers team up to fight off a terrible threat to reality. The mystery deepens as the Scarlet Witch attempts to rewrite the world for the better--but can it last? Get into the Marvel Comics event of the year with
House of M
, an 8-issue miniseries that promises to bring lasting changes to the Marvel Universe, non-negotiable! --32 pages--180 pesos only!
(Note:
House of M
issues 1-6 are still available at Comicquest--Get into this series straight away!)
--
COOL COMICSTUFF: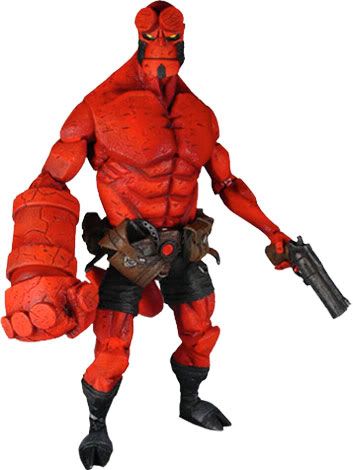 HELLBOY ACTION FIGURES
Do you like Hellboy? We like Hellboy! In faithful commemoration of the chills and thrills of Mike Mignola's masterpiece creation, MEZCO Toys has released a whole slew of fantastic Hellboy action figures! This series features
Hellboy
,
Lobster Johnson
,
Liz Sherman
and
Krigstein
. Each figure is meticulously sculpted based on Mike Mignola's original designs, and comes complete with loads of fun accessories. --Set of 4 figures--4500 pesos only!